Humor and Truth from the Research Lab
As a grant writer, did you ever want to know what it is like to write a federal research grant?
Well, this flowchart from a biochemist  really shows that crazy process with humor and truth.  I lived this as a faculty member and laboratory researcher.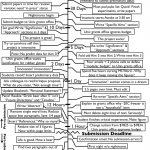 This timeline and task list is a great educational tool for the larger grant writing community.  Proposal section names are different for science grants, but the basic ideas in each section are the same for non-science grants.  As funny and seemingly absurd as it is, the chart reveals planning involved because of the required detail and organizational skills it takes to prepare these multi-year laboratory research proposals.
All the points on the timeline discussing experiments, gathering data, and publications speak to evidence-based grant writing.  There is no other kind of grant writing in the scientific community.  Gone are the days where a researcher could propose an idea with little supporting evidence.  Frankly, I am not sure those days truly ever existed. [Read more…]