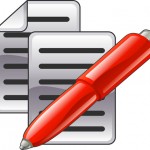 A frequent piece of advice in academic science is to have someone else read your grant proposal before submission. That advice usually means having a colleague review your grant proposal. Another pair of scientifically literate eyes can determine whether your ideas engage the reader and tell a good research story. An extra pair of eyes can also find grammatical, spelling, and syntax errors.
Grant writing and reviewing groups are advantages within research associations and collaborations where this kind of collegial review occurs for a few lucky scientists. The rest of the research community is mostly on its own. Most faculty members are on their own because they are just as busy as their mythic colleague with the duties of teaching, research, and service. Likely, nobody has the time required for a deep review of a proposal that isn't theirs. The mythic colleague doesn't have time for significant mentoring through the grant proposal process either.
Academic science, large or small, has its micro political minefields. Current colleagues may not be suitable reviewers or mentors because of scientific competition, isolation, or expertise. Concerns about intellectual property are all too real. Funding agencies make every effort to find a few experts and near expert scientists for reviewers and panel members. The real challenge is getting your proposal past the non-experts on the panel—the generalists. Why not send your proposal to an outside impartial generalist for a review before submission? Convince me and convince others that your ideas are sound.
Since it is summer, but with proposal deadlines now and into the new academic year, don't wait until the last-minute. Have your proposal reviewed sooner than later. Sign up by July 7, 2014 to receive my newsletter containing grant writing and academic science survival tips and a get a reduced price on my very thorough Red Pencil Review. The reduced price is good through December for newsletter subscribers.
Happy grant writing!